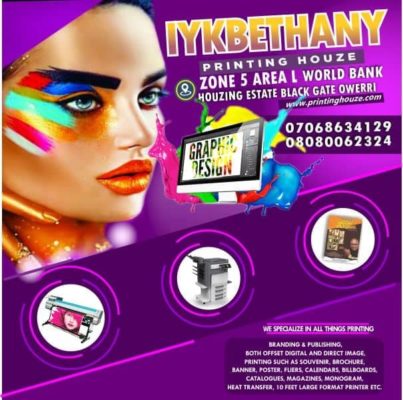 The Most Equipted Printing & Branding Company In Owerri
At IykBethany Printing Houze, we specialize in all things printing, branding & publishing, both Offset Digital & Direct image Printing Such as Souvenir, Brochure, Banner, Poster, Flyers, Calendars, Billboards, Catalogues, Magazines, Wedding Cards, Invitation Cards etc.
We offer Branding & heat transfer on cars, jug, mugs, tshirts, facecap etc.
We have brand new, 8 head and 4 heads Worldclass Monogram for stylish designs on T Shirts, towels, facecaps, uniforms, back to school etc.
We have 10 feet large format machine for Billboards, Big Buses & vehicle branding.
We print for the government, banks, schools, hotels, hospitals, churches, real estate, political parties etc.
Address: Area L, Zone 5, Opposite Ideal Suit Hotel, world bank Estate, Owerri.
Phone/whatsapp: 0706 863 4129